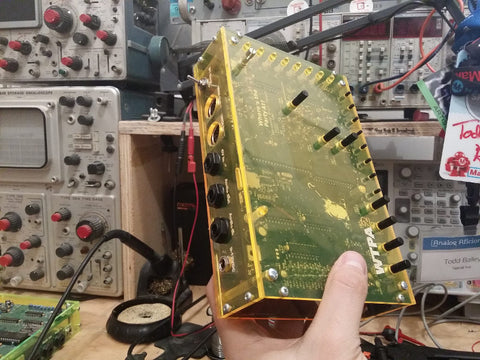 FULLY ASSEMBLED UNITS! BALLER ALERT!
For a truly "throw-it-in-the-bag" experience, this is what you want.
This is a totally assembled, fully modded, up to date and fully tested *by me* WTPA2. It has every add-on and bling and option WTPA2 can have, first dibs on any limited enclosures, and it definitely WORKS. Which is not nothing for a kit. Since this isn't, technically, a kit. It is the ULTIMATE SAMPLING EXPERIENCE, or would have been in like 1988.

Please note, these are VERY LIMITED EDITION because building them is time consuming and although I love you I am real tired of soldering together these things. So once they sell out there is no guarantee I will make more. Especially at this price :-)

Dec 21, 2014 -- All pre-assembled units put together before WTPA2 went on sale have been sold, so anything from here on out must be assembled to order. Estimate an additional 2 weeks for me to assemble these before shipping.
(About 5 minutes later) -- I don't make assembled units anymore.  It was fun, but why take that fun away from you, dear reader?